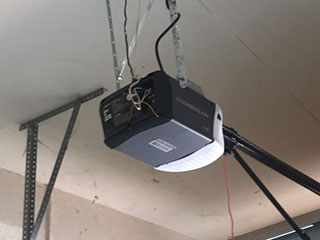 As with most electric mechanisms, garage door openers can develop faults as components wear out - considering the excessive use this part of the system is placed under each time the door is used, this is understandable. When something goes wrong with the unit itself, it can be hard to pinpoint the cause of the malfunction.
Is it the remote control? Maybe there are only some loose wires? Maybe there is a bigger problem with the motor? In fact, there are a number of issues here that could affect your opener - that's why we highly suggest turning to a professional for the best resolution.
Any Brand Or Model
Our company has years of experience when it comes to opener repairs and replacements. Our technicians have worked with a wide range of models and brands and will we able to provide you with the professional service required to solve your situation.
Troubleshooting Unusual Behavior
If your door is acting strangely, like refusing to open when you use your remote or continuously opening and closing, this is likely to be down to the opener unit. Our technicians can get to the bottom of these problems, we'll troubleshoot until we find the root cause of the issue then provide the best way forward to get your door working properly again.
Don't DIY It
Even though there are numerous guides on the web with troubleshooting hints and tips, we really encourage you to rely on the expertise of a professional, rather than attempting to fix the issue yourself. Unless you're a trained professional, there is always a risk that you may make matters worse. Further, there is a possibility that one issue might affect several parts, or simply be caused by mistakes during a previous installation. These things are not easily detected or fixed without experience.
Fast-Response When You Need It
Our team will do their best to get to you fast when it's an emergency - we understand how urgent it is if you've become unable to open or close your door properly. In this unlucky scenario, you can rely on our team of expert technicians, to sort the problem quickly so you can get on with your day.
Contact Us Today
Get your opener fixed or replaced at a time convenient to you by contacting our professionals at Garage Door Repair Leesburg - we'll be happy to hear from you!
You can also count on us for:

New Garage Door Installation

Opener Sensor Replacement

Garage Door Cable Replacement

Garage Door Opener Maintenance