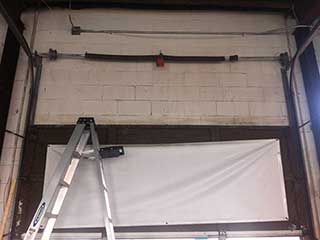 The springs that support the weight of your garage door are vital parts of the system, and without them the panels won't be able to move at all. Few homeowners appreciate the fact that, while these components are designed to last for several thousand cycles, they will inevitably wear out. If they're allowed to actually break, they can be very dangerous; a typical door weighs over 150 pounds, and can do a lot of damage to anything below it when it falls.It's really important that homeowners know how to look after these units, so we've put together this quick guide to help homeowners keep their torsion or extension springs in proper shape. We'll also talk about the warning signs you should watch out for, and what to do when you see them.
Good Maintenance Habits

While springs only have a limited lifespan, it can be extended by making sure they're properly maintained. In order to preserve their working condition for as long as possible, you need to lubricate them to ensure they can move smoothly and easily every time the door opens and closes. The lubricant also acts as a rust preventer, so it's an easy and effective way to reduce wear and tear on your door springs.

Checking The Door's Balance

Your springs are designed to perfectly balance the weight of the panels. When they weaken, the door will struggle to stay open. You can test this by disconnecting the opener and manually lifting the door halfway open. The door should remain still, or move slightly, but no more than an inch or two. If it sags or keeps rising, then the tension of the springs needs to be adjusted.It's better that you have our experts handle this, as mishandling of these components can result in serious injuries.

Common Warning Signs

No matter how well you look after these components, they will eventually wear out. As they do, they'll become weaker, so watch out for signs that your door is sagging or wobbling while in motion, or for loud squeaking noises. Do not try to perform the required spring replacement by yourself. You could get seriously injured as a result. This type of task can be quite dangerous, so it's better to have one of our professionals at Garage Door Repair Leesburg, FL carry it out for you.