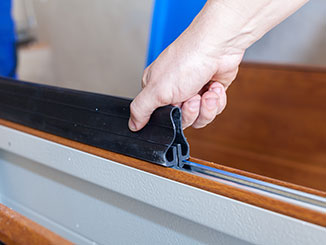 Winter can be a time of cold temperatures and extreme weather. An insulated garage attached to the main building of your home can help to protect your home from exposure to the wind, rain and snow. On the other hand, an attached but uninsulated garage can bring the cold of winter into your living space – and let the warmth out too. Weather proofing your door to guard against the cold is a great way to stay warm all year round. It'll also help to ensure you don't blow your budget on expensive heating. Read on for quick and easy ways to get your door ship-shape for the colder weather!
Plug All Gaps

Your garage door is a complicated piece of machinery with many moving parts, and regular, everyday use can lead to wear and tear – causing tiny gaps to form and widen. These openings commonly appear between wood panels and around the outside of the structure. Standing on the inside of your garage, close the door and carefully look for shards of light peeking through the door, especially around the edges. It may help if it is dark outside and you use a flashlight. Locating gaps is step one – while you may be able to repair some on your own, larger or more difficult reach ones may require and expert.

Check The Weather Seals for Wear

Your garage door should include a rubber strip that runs the length of your door panels on the underside of the structure. The purpose of this strip is to provide a barrier against draft, preventing cold air from entering your garage in windy conditions. Because your door touches the ground every time you close it, it can be susceptible to scratches and dents. To check that yours is still in good working order, stand on the inside of your garage when it's closed. If you clearly feel air blowing in from under the door your rubber strip may need replacing.

Insulating Your Garage Door Is Easier Than You Think

Using your garage door without a care to the state it's in can lead to disaster and breakdown. A regular maintenance plan will help to keep it in good condition for years to come – the steps above are quick and easy, but they'll go a long way to saving your serious costs – both in heating costs and repair expenses. If you're in need of further advice when it comes to proofing your door for more extreme weather events, we can also help with this – contact our team at Garage Door Repair Leesburg!